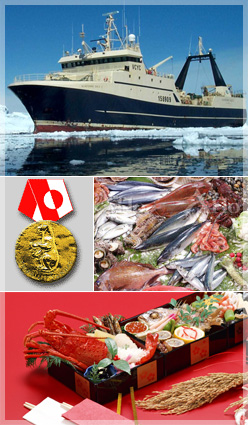 Schooner Co., Ltd. was established in 1978 by Mr.Nobuyuki Higuchi after his long career in the world's largest fishing corporation.
His strong spirit for challenge has made the company as No.1 for cold water shrimp in Japan, and Schooner Co., Ltd. keeps the leading position for a quarter of a century.
In 1995, Greenland has honored him with a gold medal (Nersornaat in Gold) for his contribution to their fishery.
Besides the cold water shrimp, we import various items, such as snow crab, mussels, mackerel, capeline and turbot, and export Japanese fish and Japanese